Welcome to Craftsman Home Remodeling
The Craftsman Home Remodeling website was created so people can see what goes into the construction of an
Arts and Crafts
,
Greene and Greene
style, Craftsman house. The Craftsman style is also commonly referred to as
Craftsman Bungalow
or
California Bungalow
. In general, California bungalows tend to be smaller in size, where Greene and Greene Craftsman houses trend towards larger sizes and are sometimes referred to as super bungalows. With this home remodel I realized that I had a once in a lifetime opportunity to create a real work of art. As a result, I tried to be as authentic as I could and every little detail mattered.
This Craftsman Home Remodel site can be used as a reference for someone about to start or in the middle of a home remodel, bathroom remodel, kitchen remodel, garage remodel, or any other type of house remodel. Also, anyone interested in the Arts and Crafts movement or Greene and Greene style houses will probably find the history of this home remodel quite interesting and, of course, the 2000+
construction photos
really help to see what was involved and shows off the final detail that was a result of all the hard work.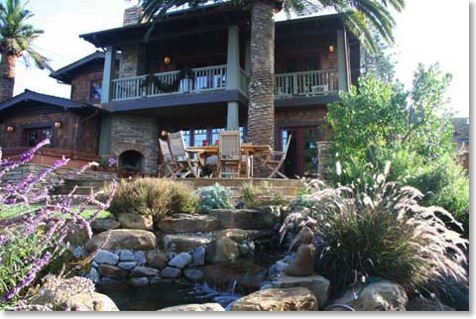 I describe lessons learned during the process and even provide a '
Finish Store
' (still coming) so you can find all of your finish materials and links to the sites. If you have any questions on something used in the house, please feel free to
ask me
.
To get started, I would suggest starting with
Why We Did This
which shows before and after shots of the
house exterior
and our rationale for starting this massive project.
- Mike
In this Craftsman Home Remodel site, you will find information and pictures related to bathroom, kitchen, and garage remodeling and specific items such as bathroom tile, Craftsman newel posts, Craftsman staircases, wainscoting, cedar shingles, cedar siding, cultured stone,
Craftsman fireplaces
, a
mahogany front door with custom stained glass
, details in electrical and plumbing fixtures, a
Craftsman playhouse
, and
Greene and Greene
,
Stickley
, Mackintosh,
William Morris
, Gamble house, Blacker house, and Robinson house
books
.




Sign up NOW for instant Savings, Newsletters, and Exclusive Sales!


---
The Furniture Store
Featuring the
Craftsman Collection
---
Faucets, Sinks, & Tubs
Oh My!
40 of the Top Manufacturers at Discount Prices!
---
Ceiling Tile Store
Ceiling Tiles
Backsplashes
Crown Molding!
---
Lighting Store
All styles of lighting. Check out the Tiffany lamps!
---
Visit the
Tool Store
Over 15,000 items!
---
Relax the Back Store
Enjoy Your Home with a New Massage Chair or Mattress!
---
Appliances & Electronics
All styles of appliances and electronics for your home!
---
Gourmet Food
Enjoy the World's Foods at Discount Prices!
---
The Rug Store
Largest selection of
Quality Rugs
---
Arts & Crafts
Calendar of Events
---
Design Your Own House
I use Punch Software's Architectural Series for laying out the house and individual rooms so I can get a 3-D look before construction starts. I also like to use it to see what my landscaping will look like in a few years. It's super easy to use!

---
Craftsman furniture
Renewable Energy Solutions
Get Off the Grid and Build your own
Solar Panels
and
Wind Turbines
Click Here for more info!