In this blog I will do my best to describe the process I went through in turning my 1957 Ranch-style house into a 2006 Craftsman house as inspired by the
Gamble House
in Pasadena. Please feel free to comment on anything I write and ask questions as it is the only way we learn.


Note: Since completion of the house I have also decided to allow guest bloggers to post articles related to remodeling. This continues the education process.
TIMELINE
Architect Selection
- December 2002 through January 2003

Getting a Permit
- January 2003 through November 2004

Construction
- November 2004 through September 2006

Post Construction
- October 2006 through ???

---
---
Painting Lesson Learned, Stairs Almost Done, Landscaping Going Well
Sat, Jun 24 2006 04:41 PM
| Brazilian cherry, Bungalow, Construction, Craftsman, Dave Barlow, Drywall, ebony, mahogany, Plaster, Remodel, Staircase
| Permalink
No....not yet! I hate saying this as I haven't been right yet but I expect us to start moving in by mid-July.
• We are still painting rooms. Probably for another 3 weeks. The problem is that all wall and ceiling surfaces need to be skim-coated. My GC was trying to keep the costs down by spot patching the walls and in hindsight it looks like it ended up costing me quite a bit more because it takes forever to spot fix these walls with all of the wood trim everywhere.
A
MAJOR Lesson Learned
here is plaster the whole house or go in with the plan to skim coat over ALL drywall surfaces. The bottom line is drywall may be faster and cheaper if your building a bunch of condos but it ends up costing a lot more if you are trying to do a good quality job. About half of the screws popped out with all of the hammering due to woodwork finishing.
• Dave Barlow has finished the stairs and wainscoting and is now working on the staircase railing. After that, he should be done. He's been with us 1 year now, did all of the interior woodwork, and was only hired to do the stairs. Unbelievable!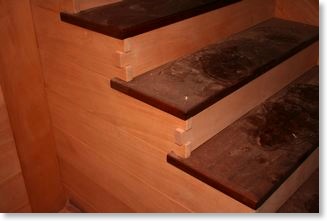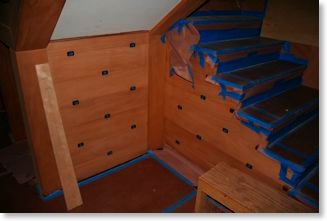 • Landscaping is going pretty well. The front driveway is complete, the front pathway is just about done, sprinkler valves are in, final grading and irrigation starts next week, and the waterfall/pond will finally start next week.

Camera Broken, Drywall Taped and Sanded, Starting Staircase, Siding Complete
• Bad news. I took a trip and my camera got some dirt in it. It now doesn't work so no pictures. The new camera should be coming in a few days.
• Drywall is sanded and just about ready for primer.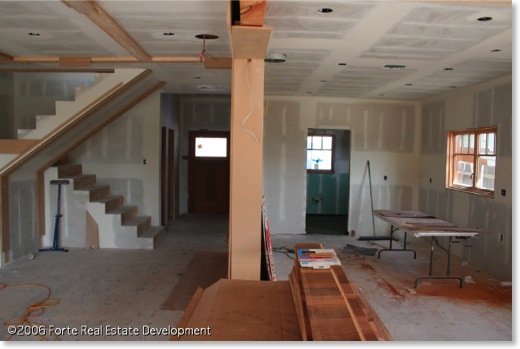 • Dave Barlow is working the staircase and will be doing other fine carpentry in the house. He is creating mockups of everything out of MDF (fiberboard) prior to cutting the real wood.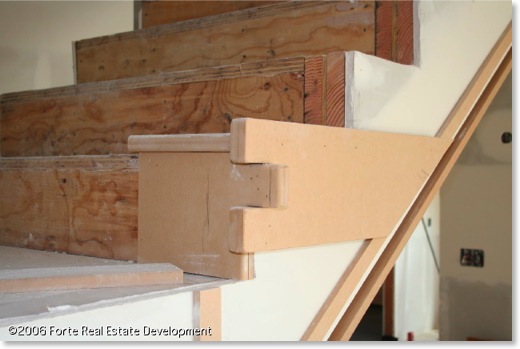 • All shingle and stone siding is installed.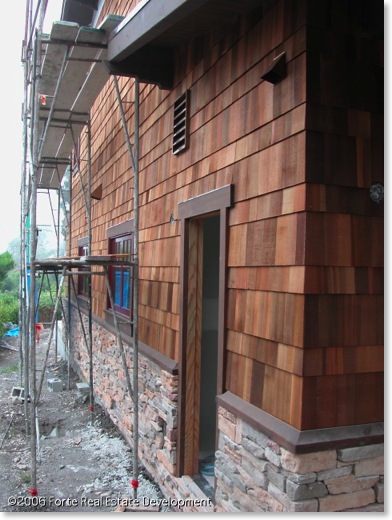 Shingle Siding, Drywall Inspection, and Stone Siding
• The siding continues to go up. I think the variation in the tone makes it look very interesting. Anyway, it can't be stained until at least June 2006 so no need to worry about it now.
• Drywall inspection is tomorrow.
• Stone siding starts to go up this week.

Next Page
Be sure to browse the 2,000 picture Photo Gallery for more step-by-step construction details.