In this blog I will do my best to describe the process I went through in turning my 1957 Ranch-style house into a 2006 Craftsman house as inspired by the
Gamble House
in Pasadena. Please feel free to comment on anything I write and ask questions as it is the only way we learn.


Note: Since completion of the house I have also decided to allow guest bloggers to post articles related to remodeling. This continues the education process.
TIMELINE
Architect Selection
- December 2002 through January 2003

Getting a Permit
- January 2003 through November 2004

Construction
- November 2004 through September 2006

Post Construction
- October 2006 through ???

---
---
Biometric Fingerprint Garage Door Opener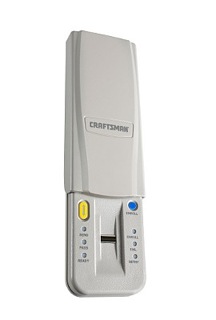 I still don't have any way to get into my garage and have been wondering about a fingerprint scanner mechanism so the kids won't have to remember a code. Well, I just found one that's made by Craftsman. According to info I have read, it can store up to four unique fingerprints and takes about a minute to program it. You can
read more about it here
.
What I like about it is that you can program a contractor's fingerprint into it for the one or two days he needs access without giving a numeric code. When he's done working, remove the fingerprint from the system and he's locked out!
Garage Floor Upgraded with RaceDeck
Now that I am moved in, it's time to take care of some details. I want to be able to keep the the garage floor clean and dry but I wasn't crazy about the idea of putting epoxy paint on the floor. After a bit of research, I came across
RaceDeck
. This floor is used in showrooms and looks perfect for what I want it to do. I bought the Freeflow type as it allows water and dirt to fall through to the floor underneath. When I rarely need to clean it, I just vacuum the floor and everything below comes up.
The pieces snap together like a puzzle making it real fast and easy to complete. The hardest part was emptying and refilling my garage. The installation below took all of 2 hours.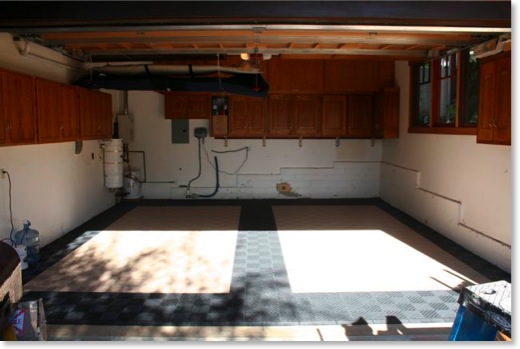 Roof Papered, Skylights In, Siding Ordered, Ceiling Layouts, Rough-Ins Continue
• The roof has been covered with paper.

• Velux skylights will be added to the entry, and all downstairs bedrooms. These skylights have remotely controlled blackout blinds built in. I definitely wanted a chandelier in the entry but Amy was saying it was too dark. Our solution is to put in a 24"x24" skylight that is parallel to the floor instead of the vaulted ceiling. Wood trim will be placed around the opening to match window and door trims. From the four corners, wires will be strung to hold an as yet to be determined chandelier. I'll probably have to make it. I'm envisioning a 4-sided inverted pyramid with stained glass panels. During the day it will be illuminated by the skylight above and at night it will work as a regular chandelier, i.e., it will always be lit up.
• The cedar, shingle siding has been ordered from Cedar Valley in Hollister, California.
• Beam locations in the living room, dining room, and kitchen have been identified by string. This allowed rough-ins of plumbing, electrical, HVAC, and central vacuum systems. Inspection should be next week.

Next Page
Be sure to browse the 2,000 picture Photo Gallery for more step-by-step construction details.