In this blog I will do my best to describe the process I went through in turning my 1957 Ranch-style house into a 2006 Craftsman house as inspired by the
Gamble House
in Pasadena. Please feel free to comment on anything I write and ask questions as it is the only way we learn.


Note: Since completion of the house I have also decided to allow guest bloggers to post articles related to remodeling. This continues the education process.
TIMELINE
Architect Selection
- December 2002 through January 2003

Getting a Permit
- January 2003 through November 2004

Construction
- November 2004 through September 2006

Post Construction
- October 2006 through ???

---
---
Throw a Hottub on That New Deck!
Choosing to install a hot tub is a big decision, and there's a lot to consider before making the investment. Before buying a hot tub consider both the pros and cons of ownership.
The Pros


Provides Relaxation


Invites Fun Social Opportunities


Provides Therapeutic Benefits for Arthritis or Sports Injuries:


An article in Arizonacentral.com reveals that
soaking in a hot tub can greatly relieve pain associated with arthritis or sports injuries
. If you do have a sports injury, however, hopping in the tub too soon may increase inflammation. Once the swelling has started to go down and the pain is not as bad, the warm water encourages circulation and reduce muscle spasms and may allow arthritis sufferers to do exercises more easily.
The Cons
Looking at the cons is less fun, but these need to be weighed as well.


Cost: Installing a hot tub is an investment. The Better Business Bureau reveals the tubs can be $4000 -$6000 to install for the actual hot tub. Monthly energy costs may also rise. Maintenance supplies are another expense.That's why you need to make your tub as cost effective and energy efficient as possible. Finding hot tub parts suppliers like HotTubworks.com can help keep money from becoming too big of a problem.


Responsibility of Ownership: Owning a hot tub means watching out for others. Hot tub owners need to be firm about tub rules, including limiting the time and exposure of guests.


Medical Issues:


WebMD reveals a number of infections can occur as well as respiratory problems, so safety precautions are important. According to Medical News Today, male infertility can also be an issue.​ HealthlinkBC.com offers suggestions on what types of infections to watch for and how to avoid them, as well as important safety measures to remember. Keeping the tub clean and disinfected with either chlorine or bromine will reduce the risk of infections, such as legionella and pseudomonas which can bring serious skin rashes, eye infections or even pneumonia. Water temperatures should not exceed 104 degrees Fahrenheit, and should be even cooler at 102 degrees if pregnant women are using the tub.
Where to Put Your Hot Tub
Hot tubs can be installed both indoors or outdoors. Installing a hot tub inside is more expensive, requires more costly renovations, and will require you to make adjustments to handle the additional moisture in your home to avoid problems such as mold. For the majority of people, buying a good robe and putting the hot tub out on the deck or patio is the more realistic choice.
Among the most important considerations is the actual weight of the tub and its impact on whatever floor it stands on. Add the weight of the tub itself, the weight of the water, and about 8 pounds per gallon to the the weight of the people in the tub. This is another reason to take things outside; to avoid that extra pressure on your livable space.
Choose What Environment You Want Create
While the first hot tubs were big wooden barrels, it's likely that you will want something a bit more stylish. Tubs can be built on the same level as your deck floor so you can walk, rather than climb, into them. Some people place a gazebo around their tub, or a romantic canopy that brings privacy, even outdoors. Asian themes that create a "Zen" feel are also popular. With a little brainstorming and imagination, you'll come up with the perfect tub style to fit into your life.
Houzz.com
has many inspiring examples of dazzling hot tubs you can look at to help you find your own style.
Maintaining this House is Something Else!
Fri, Jul 9 2010 09:50 PM
| Door, Hot tub, koi, Painting, Palm Tree, Pond, Post Construction, Stone, tankless water heater, Wood Deck
| Permalink
I haven't written in a few months but that's not because I had nothing to write about. We have been in the house over 3 1/2 years now and there are certain things that need fixing. Some are regular maintenance items and others are just surprises. Let me give you a quick rundown of what's going on.
Exterior Paint
- The South sides of the house start to fade due to the constant sunlight received throughout the year. On average, we have been needing to paint the South side of the house every 12-18 months at a minimum. For this we are using a clear coat of Varathane on the shingles and the bark-colored Cabot stain on the redwood trim. Just last year I had the garage door sanded down and refinished along with the house as it was fading bad with only a clear coat on the mahogany. I had it stained and recoated. Now it looks like a million bucks.
Tankless Water Heater
- Once a year I have to flush the tankless water heater with vinegar. It's not difficult to do but just another thing to do.
Hot Tub Pump
- I just had the hot tub pump replaced with about 3 months left on the warranty. Whew! Apparently, it's better to keep the water pH on the high side to prevent corrosion of the parts.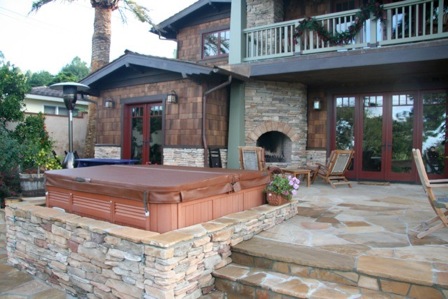 Stone Facade on Hot Tub Door
- I built a wall surrounding the hot tub but needed to leave one side open so it could be slid into place. I had a 3-sided wall and wanted to close off the fourth side. We devised an extremely heavy two part door on heavy duty hinges. When I had to open the doors and put them back for the recent hot tub servicing, I had a problem getting the doors to shut. Apparently they weigh so much (maybe 200 pounds each) that the hinges were bending. With some finessing and a lot of brute force I managed to shut the doors again, however, some of the stone facade attached to the face of the doors fell off and now I have to fix it. Not only that but two fingers were crunched in the doors when they finally shut. Not fun!!! Note to self....get others to help shut the door so you don't create more work by having to replace stone.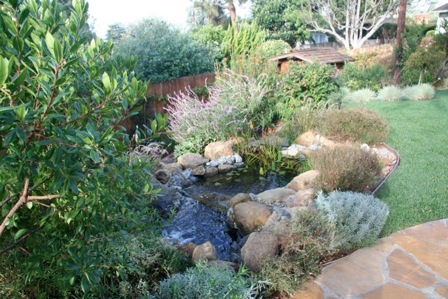 Koi Pond - The koi in the pond are HUGE!!! I'm glad to see the pond thriving but that being said, I just got through my annual cleaning of the pond. It costs about $650 per year! They take out the fish, scrub all of the algae off the rocks, clean out the filters, check everything, and refill it. I'm sure there's more to it than that. It takes 3 guys about 4 hours. See the koi pond cleaning here. But wait, there's more. The lights in the pond are failing and I have been told that the new lights out now are the way to go and will last for 10 years or so. So there's another grand or so. Stay tuned.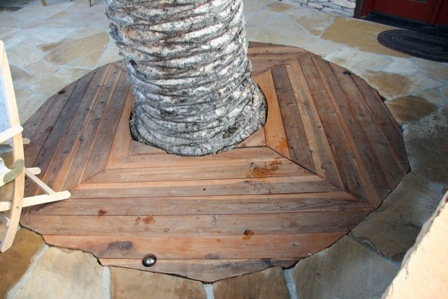 Wood Deck around Palm Tree
- Do you remember the palm tree in the backyard that we basically built the house around? Well, you may also remember that I had a wood deck built around it in 4 pieces to maximize the patio usage. It was a very nice fit but as the tree continued to grow about 18 inches per year, the base kept getting larger and the surface roots started to lift the deck. Last year I lifted the 4 panels, trimmed the roots around the tree, and enlarged the hole. Well, it's time to do it again. This looks like an annual event.
Now after all of these things, people always say "you wouldn't do it again, would you?" I would do it all over in a second! I love this!!!
Bye for now......Mike
The Finishes are Going In
Thu, Nov 3 2005 09:57 AM
| American Cherry, Bathroom, Bungalow, Cabinets, Construction, Craftsman, Door, Fireplace, Flagstone, Hot tub, Kitchen, mahogany, mantel, Painting, Patio, Remodel, Shower, Slate, Spa, tile
| Permalink
Lately, I have been overwhelmed with the number of things going on at the house and though I have been taking pictures, I have not had time to annotate and post them. They will arrive, just a little patience.
• The master bathroom has been tiled and looks great!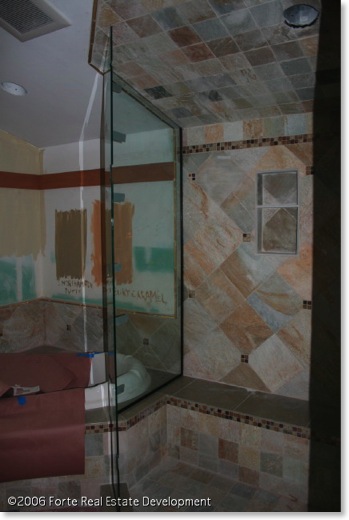 • Cherry cabinets have been installed in the kitchen, master bath, and laundry room. Unfortunately, the kitchen sink cabinet was 3/4" off center from the window. The cabinet had to be shortened by 3/4" on both ends to keep it symmetric and centered on the window.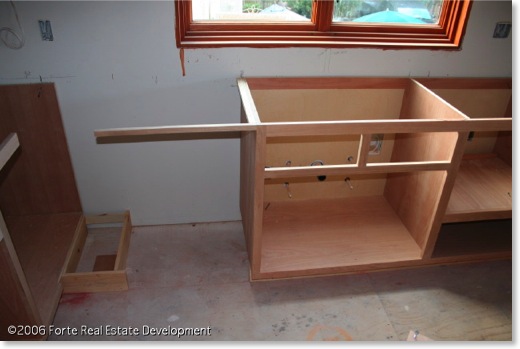 • I have purchased the soapstone slabs for the kitchen and laundry room from Soapstone West in Escondido, CA.
• Brazilian Cherry floors have been ordered from Dutko Hardwood Floors in Lawndale, CA and will be installed the first week of December. Talk about a backlog.
• The fireplace mantel has been installed and stained. Plaster will go above it and Moonlight flagstone will go below. It will be cut into manicured blocks of varying size.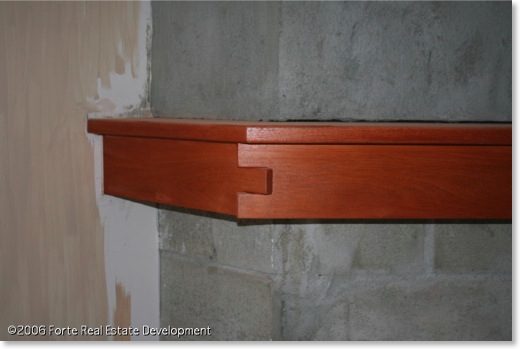 • Actual work has started on the staircase. There was a lot of planning to get to this point.
• The hot tub has been delivered. We're just waiting for power now.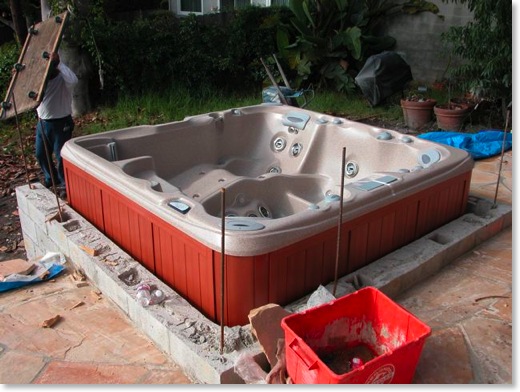 • The Golden Busckskin flagstone has been installed on the front and back patios.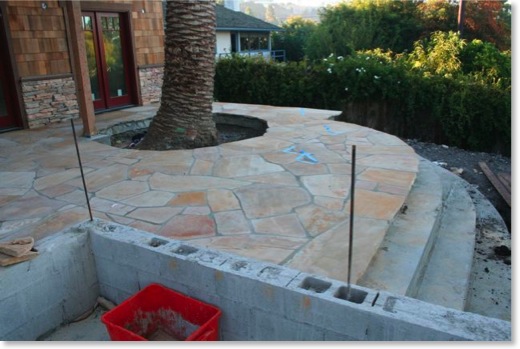 • The green slate has been installed on the balconies.
• Paint samples are all over the walls. I hear they will start within 2 weeks with the paint.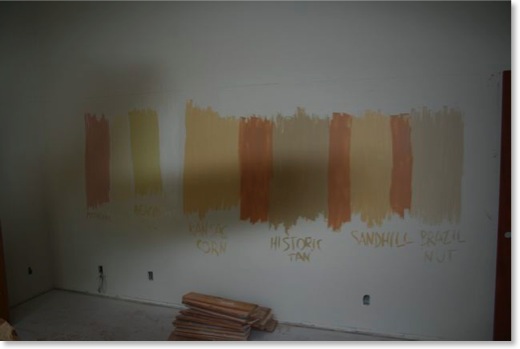 • Interior doors are installed and stained.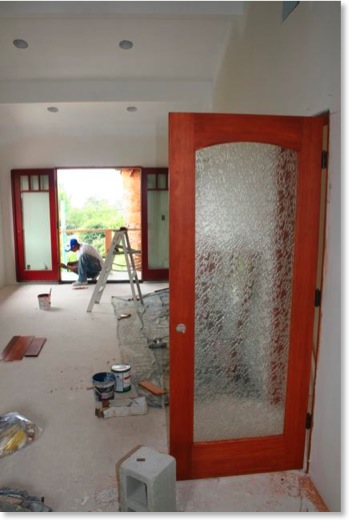 Next Page
Be sure to browse the 2,000 picture Photo Gallery for more step-by-step construction details.