In this blog I will do my best to describe the process I went through in turning my 1957 Ranch-style house into a 2006 Craftsman house as inspired by the
Gamble House
in Pasadena. Please feel free to comment on anything I write and ask questions as it is the only way we learn.


Note: Since completion of the house I have also decided to allow guest bloggers to post articles related to remodeling. This continues the education process.
TIMELINE
Architect Selection
- December 2002 through January 2003

Getting a Permit
- January 2003 through November 2004

Construction
- November 2004 through September 2006

Post Construction
- October 2006 through ???

---
---
The Palm Tree Was Removed
Southern California Edison has been trimming my palm tree every few months for the last 8 years. During that time, I have been trying to get them to underground the power lines before my tree reached them. The last trimming was one too many as they topped off the palm tree resulting in its quick demise. Here are some photos I took of the removal.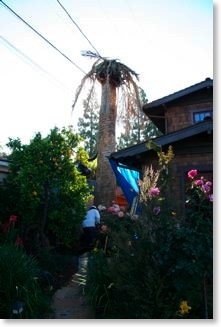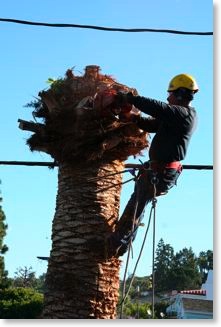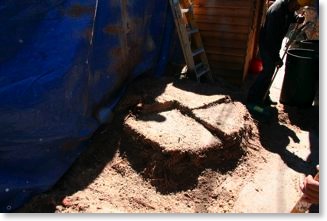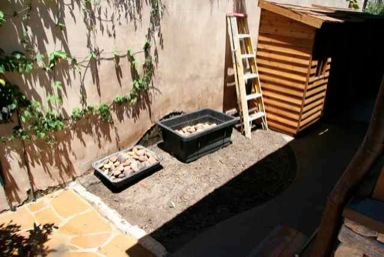 Everybody is Working - Painting, Murals, Library, Stairs, Wainscot, Playhouse, Landscaping
Wed, May 17 2006 04:28 PM
| American Cherry, Bungalow, Cedar, Closet, Construction, Craftsman, library, mahogany, mural, Murphy bed, Playhouse, Remodel, Shingles, tree, wainscot
| Permalink
Well it's mid May and I'm not moving in yet. It's quite frustrating and basically comes down to manpower. My new projection is the third week of June. I'm still taking pictures and will eventually get them loaded but I just can't seem to get in the mood to do it. Maybe I'm just lazy. Trust me though....the house is coming out so much better than I had hoped for and I will eventually get the pictures loaded. Once complete I will look into creating a searchable photo database to make it easy to find pictures you are interested in. Well here's this month's progress.
• We have a painter going room to room now. We had a muralist paint this big oak tree with animals in the kids' room.
• We are almost finished laying all of the exterior flagstone around the house. The driveway will be poured this Saturday.
• The master closet is complete. Cedar-lined walls and American cherry cabinets.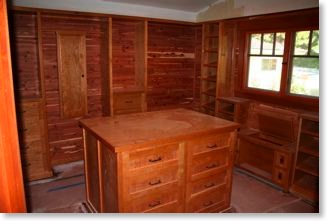 • The library is built. In fact, all cabinetry is complete and will be finished over the next few days.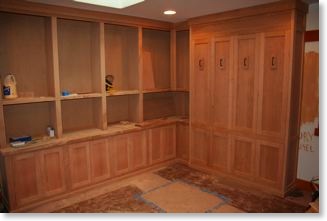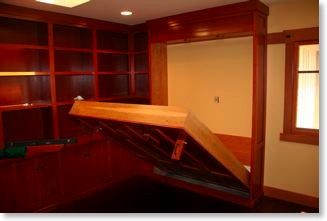 • The stair treads have been sent out for finishing. Dave is starting on the wainscot in the bathrooms and the newell posts for the stairs.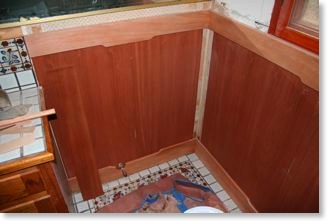 • A playhouse was built in the backyard. We used the leftover shingles for siding, shingles for the roof, Brazilian Cherry and limestone for the floors. Scaled down rafters were carved. It looks awesome!

• The waterfall and pond construction will start any day now.
• I had almost half of the exterior stone siding removed and replaced by a new stone guy. My first guy is great at ceramic tile but not so when it came to stone.
• I almost forgot....For the past four months, Matt Keyes of Keyes Landscape Design has been implementing the landscape design. It is amazing! So far we have 18 tons of boulders and need another 6 tons. I believe the landscaping will actually finish before the house now. There is a consistent group of guys that work 6 days a week, 8-10 hours a day. They are really good and fast!

Structural Engineer Needs to Redesign to Save Tree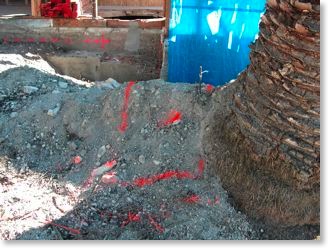 We ran into a little snag today. A footing (~8 ft. deep) can't be put in because it is adjacent to the date palm tree. The contractor called me over to the house and by 9AM he was on the phone with the structural engineer for a redesign. Since we can't put the footing in (kill the tree) or move the tree (block the view), we are going to put in a 22 ft steel beam (1200 pounds) to cantilever the upper deck.
Next Page
Be sure to browse the 2,000 picture Photo Gallery for more step-by-step construction details.