In this blog I will do my best to describe the process I went through in turning my 1957 Ranch-style house into a 2006 Craftsman house as inspired by the
Gamble House
in Pasadena. Please feel free to comment on anything I write and ask questions as it is the only way we learn.


Note: Since completion of the house I have also decided to allow guest bloggers to post articles related to remodeling. This continues the education process.
TIMELINE
Architect Selection
- December 2002 through January 2003

Getting a Permit
- January 2003 through November 2004

Construction
- November 2004 through September 2006

Post Construction
- October 2006 through ???

---
---
Garage Floor Upgraded with RaceDeck
Now that I am moved in, it's time to take care of some details. I want to be able to keep the the garage floor clean and dry but I wasn't crazy about the idea of putting epoxy paint on the floor. After a bit of research, I came across
RaceDeck
. This floor is used in showrooms and looks perfect for what I want it to do. I bought the Freeflow type as it allows water and dirt to fall through to the floor underneath. When I rarely need to clean it, I just vacuum the floor and everything below comes up.
The pieces snap together like a puzzle making it real fast and easy to complete. The hardest part was emptying and refilling my garage. The installation below took all of 2 hours.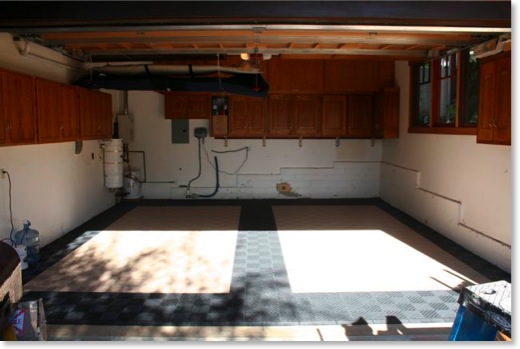 Next Page
Be sure to browse the 2,000 picture Photo Gallery for more step-by-step construction details.