In this blog I will do my best to describe the process I went through in turning my 1957 Ranch-style house into a 2006 Craftsman house as inspired by the
Gamble House
in Pasadena. Please feel free to comment on anything I write and ask questions as it is the only way we learn.


Note: Since completion of the house I have also decided to allow guest bloggers to post articles related to remodeling. This continues the education process.
TIMELINE
Architect Selection
- December 2002 through January 2003

Getting a Permit
- January 2003 through November 2004

Construction
- November 2004 through September 2006

Post Construction
- October 2006 through ???

---
---
Front Door Design
I'm working on the front door right now. This picture is a sketch of what I'm trying for with a darker (mahogany) wood. I'm going to do the stained glass myself along the lines of what is shown.
Rough Idea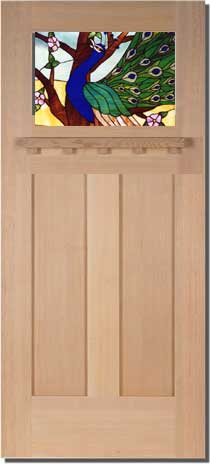 By the way, the rain is coming again next week. We should get another 2 inches which will push L.A. up to the second rainiest ever. I guess I was just lucky to start building this year during this monsoon season. Maybe we can be number one soon. UGH!
------------------------------------------------------------------------
Modified on 1/23/08
Here is a picture of the actual door at the mill and with the final stained glass. If you look closely at the raw door, you can see the three plugs at the base of the window frame. These remove to allow me to remove the frame and swap out the glass at anytime.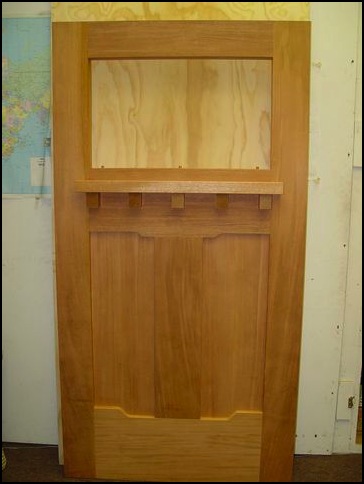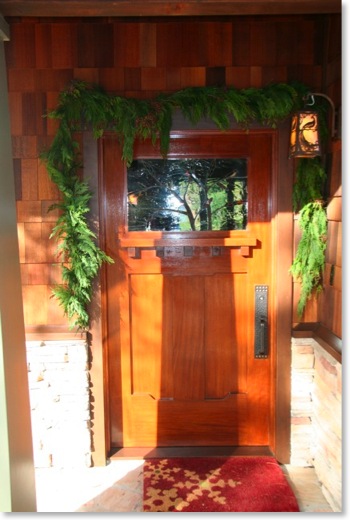 Next Page
Be sure to browse the 2,000 picture Photo Gallery for more step-by-step construction details.