In this blog I will do my best to describe the process I went through in turning my 1957 Ranch-style house into a 2006 Craftsman house as inspired by the
Gamble House
in Pasadena. Please feel free to comment on anything I write and ask questions as it is the only way we learn.


Note: Since completion of the house I have also decided to allow guest bloggers to post articles related to remodeling. This continues the education process.
TIMELINE
Architect Selection
- December 2002 through January 2003

Getting a Permit
- January 2003 through November 2004

Construction
- November 2004 through September 2006

Post Construction
- October 2006 through ???

---
---
The Permit & Construction Process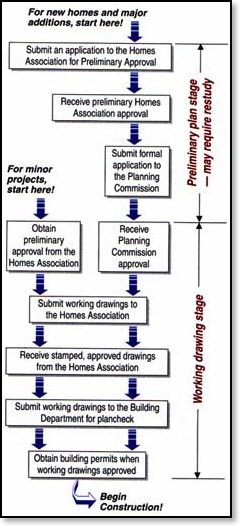 Before I get into the daily details, it would first be beneficial to tell you how the construction process works in Palos Verdes Estates. I found a great picture on their web site that is posted below. Basically, all construction needs to go through the Art Jury, part of the PVE Homes Association, and the the City's Planning Commission.

The first step is to get your drawings approved for aesthetics by the Art Jury. After their blessing, you can then go to the Planning Commission where they will weigh in on neighborhood compatibility, and listen to any neighbor's concerns. If there are concerns, you go before the Planning Commission and defend or compsomise on your position. The 5 members then vote to approve or deny your request for a permit. A majority of 3 members is required to grant approval.

Architect Selection Criteria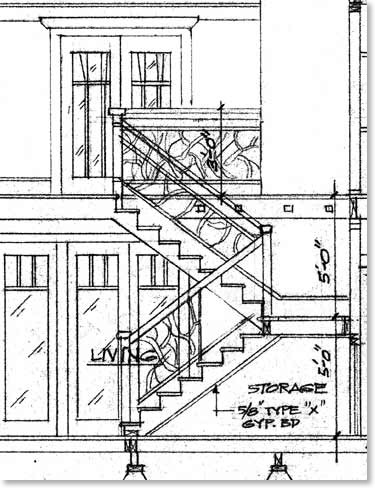 We had certain criteria that we wanted met when we started to interview for an architect. They are, not necessarily in this order:

Must be local in case here are problems and we need to meet.
Must be intimately familiar with the Palos Verdes Estates Art Jury and Planning Commission processes as the requirements and hoops to jump through are very complex for the novice.
Must be able to understand what I want and run with it. I can describe only so much of the feel and expect the architect to elaborate on it and interject original ideas. For example, take a look at Olympia Greer's vision of a Craftsman staircase railing.
Next Page
Be sure to browse the 2,000 picture Photo Gallery for more step-by-step construction details.