In this blog I will do my best to describe the process I went through in turning my 1957 Ranch-style house into a 2006 Craftsman house as inspired by the
Gamble House
in Pasadena. Please feel free to comment on anything I write and ask questions as it is the only way we learn.


Note: Since completion of the house I have also decided to allow guest bloggers to post articles related to remodeling. This continues the education process.
TIMELINE
Architect Selection
- December 2002 through January 2003

Getting a Permit
- January 2003 through November 2004

Construction
- November 2004 through September 2006

Post Construction
- October 2006 through ???

---
---
Windows In, Roof Sheeted, Ordered Fixtures, Lessons Learned
A lot has happened in the last 2 weeks. Here's the rundown.
• For the past week, I was pushing the masons to hurry up and put in a block wall around part of the patio according to the plans. Amy came over to see it that night and we both decided it was too tall and closed in the patio too much. The following day I had the guys tear it out. It wasn't very fun telling them that.
• Installed all windows. Working on doors now.
• Ordered the master bath plumbing fixtures in oil-rubbed bronze (
Phylrich Carrara Beige Marble
) and the steam shower system (
Mr. Steam
)
• The roof is sheeted, now it's ready for waterproofing.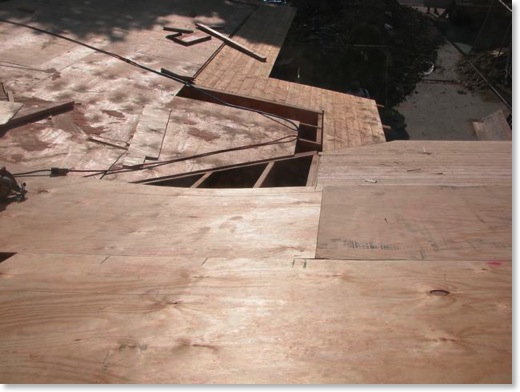 LESSONS LEARNED
• Heating ducts have been a pain in the neck. Multiple small changes have been needed to make the design work. A lesson learned is that none of the subcontractors know how the other is planning on roughing out their lines. As a result, heating ducts start to go in and one by one I tell them why it can't go in a certain spot. A soffit was created upstairs to handle the ducting. Downstairs, ducting is being run without knowledge of the final beam layouts on the finished ceiling. I'm having stuff moved. They wanted to run ducts right where I need my range vented out in the kitchen, etc., etc.
The bottom line is make sure you are on site a lot during the rough-ins to make sure everything works. Only you will know how the end product is going to be used.

Next Page
Be sure to browse the 2,000 picture Photo Gallery for more step-by-step construction details.