In this blog I will do my best to describe the process I went through in turning my 1957 Ranch-style house into a 2006 Craftsman house as inspired by the
Gamble House
in Pasadena. Please feel free to comment on anything I write and ask questions as it is the only way we learn.


Note: Since completion of the house I have also decided to allow guest bloggers to post articles related to remodeling. This continues the education process.
TIMELINE
Architect Selection
- December 2002 through January 2003

Getting a Permit
- January 2003 through November 2004

Construction
- November 2004 through September 2006

Post Construction
- October 2006 through ???

---
---
Cabinets, Plumbing, Electrical, Insulation, Surround Sound, Roof Work, Shower Mopped,.....
Tue, Jun 14 2005 05:08 PM
| Bathroom, Bungalow, Cabinets, Construction, Craftsman, ebony, electrical, Insulation, mahogany, Plumbing, Remodel, thermador
| Permalink
I have been really busy and haven't had time for updates. I have finally organized the new pictures since my last posting on 4/16/05. I will load them up sometime this week, I promise. Here are the latest issues.
• All plumbing and electrical in the master bathroom has to shift to the left by about a foot since we had a designer lay out the cabinets.
• All insulation has been put in.
• I installed in-ceiling speaker brackets for surround sound in the living room.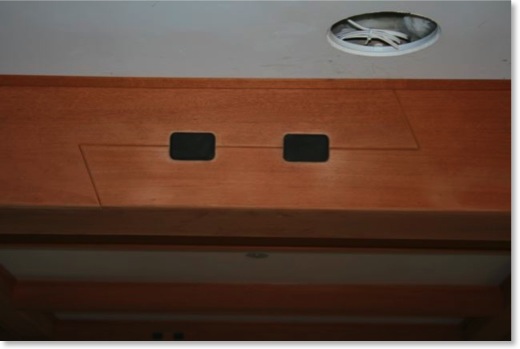 • Copper flashing is going on the roof.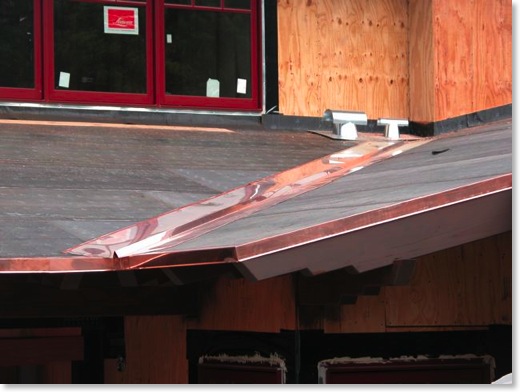 • The shower has been hot-mopped. We were told to pick out all bathroom tile and balcony and laundry room flooring this week.


• Skylights have been framed.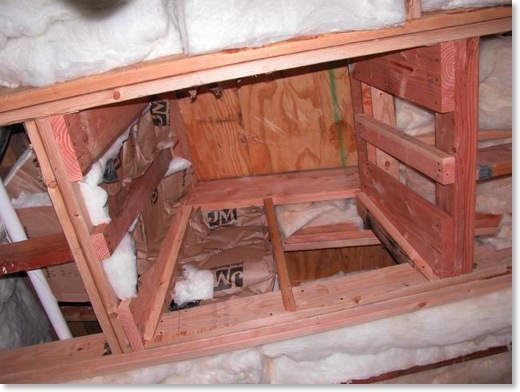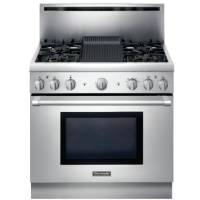 • The kitchen range vent has been put in place. One of the joists had to be moved over and plumbing rerouted to make room.
• The
Thermador range
and
Thermador dishwasher
were delivered last week. I found a place in Alabama (Fredrickson's Tire and Appliance) with amazing prices through eBay. They were clearing out a supply of Thermador appliances from a warehouse that closed down. They bought everything up and were liquidating at wholesale prices.
• With the extended garage roof you now hit your head when walking around the corner. So, we dug down about 2 feet around the garage to lower the grade.
Next Page
Be sure to browse the 2,000 picture Photo Gallery for more step-by-step construction details.