In this blog I will do my best to describe the process I went through in turning my 1957 Ranch-style house into a 2006 Craftsman house as inspired by the
Gamble House
in Pasadena. Please feel free to comment on anything I write and ask questions as it is the only way we learn.


Note: Since completion of the house I have also decided to allow guest bloggers to post articles related to remodeling. This continues the education process.
TIMELINE
Architect Selection
- December 2002 through January 2003

Getting a Permit
- January 2003 through November 2004

Construction
- November 2004 through September 2006

Post Construction
- October 2006 through ???

---
---
Kids Outdoor Arts and Crafts Area
This is late in coming but for those of you that have read about our
palm tree removal
, you know that we had some empty space on the side of the house.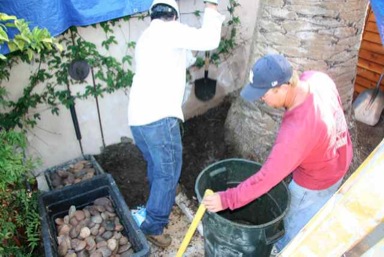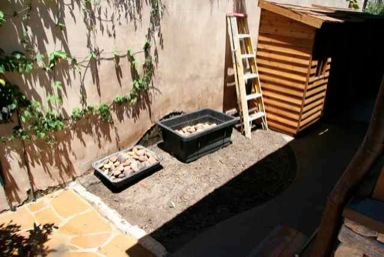 Not wanting this space to go to waste, I built a frame structure, put on a corrugated, plastic roof and grew wisteria over the entire surface. I had some left over slate from my master bathroom so I fit it into the dirt space for a floor. The blue table is one that I made out of a single 4x8 sheet of plywood. It always seemed to be in the way but now it has a good home.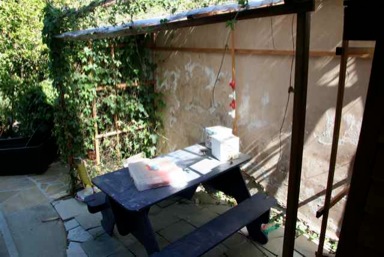 Kids Arts & Crafts Area
Now that the palm tree is gone, we have a big space (4.5' x 9') that can be used for something. After looking at the space for about 6 weeks, we have decided to turn it into a kids' Arts and Crafts area. I just bought the lumber yesterday and will be building it over the next few days. Stay tuned.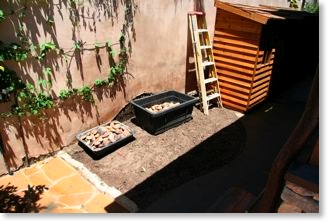 Next Page
Be sure to browse the 2,000 picture Photo Gallery for more step-by-step construction details.