In this blog I will do my best to describe the process I went through in turning my 1957 Ranch-style house into a 2006 Craftsman house as inspired by the
Gamble House
in Pasadena. Please feel free to comment on anything I write and ask questions as it is the only way we learn.


Note: Since completion of the house I have also decided to allow guest bloggers to post articles related to remodeling. This continues the education process.
TIMELINE
Architect Selection
- December 2002 through January 2003

Getting a Permit
- January 2003 through November 2004

Construction
- November 2004 through September 2006

Post Construction
- October 2006 through ???

---
---
The Finishes are Going In
Thu, Nov 3 2005 09:57 AM
| American Cherry, Bathroom, Bungalow, Cabinets, Construction, Craftsman, Door, Fireplace, Flagstone, Hot tub, Kitchen, mahogany, mantel, Painting, Patio, Remodel, Shower, Slate, Spa, tile
| Permalink
Lately, I have been overwhelmed with the number of things going on at the house and though I have been taking pictures, I have not had time to annotate and post them. They will arrive, just a little patience.
• The master bathroom has been tiled and looks great!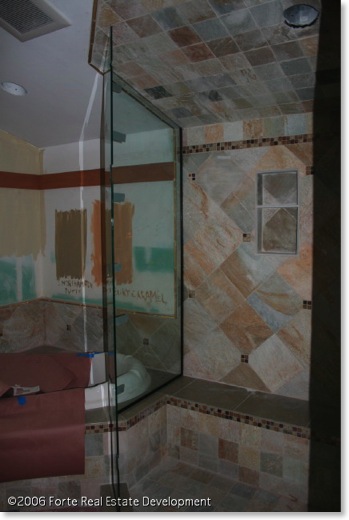 • Cherry cabinets have been installed in the kitchen, master bath, and laundry room. Unfortunately, the kitchen sink cabinet was 3/4" off center from the window. The cabinet had to be shortened by 3/4" on both ends to keep it symmetric and centered on the window.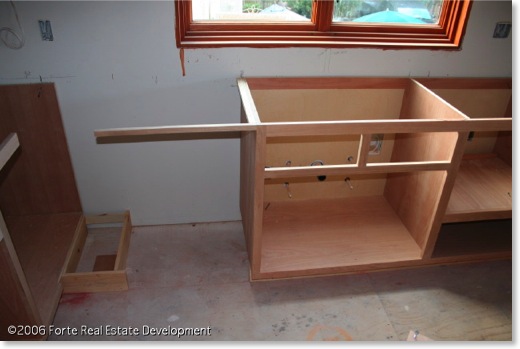 • I have purchased the soapstone slabs for the kitchen and laundry room from Soapstone West in Escondido, CA.
• Brazilian Cherry floors have been ordered from Dutko Hardwood Floors in Lawndale, CA and will be installed the first week of December. Talk about a backlog.
• The fireplace mantel has been installed and stained. Plaster will go above it and Moonlight flagstone will go below. It will be cut into manicured blocks of varying size.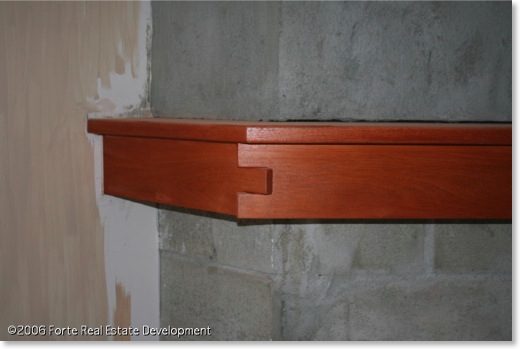 • Actual work has started on the staircase. There was a lot of planning to get to this point.
• The hot tub has been delivered. We're just waiting for power now.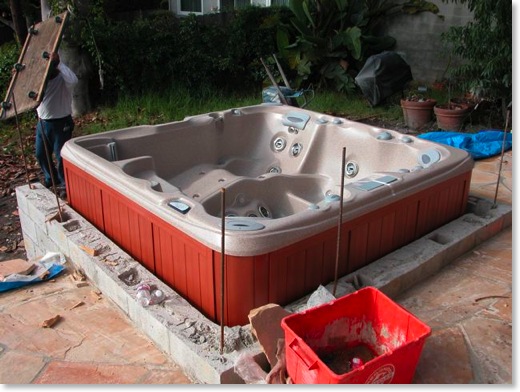 • The Golden Busckskin flagstone has been installed on the front and back patios.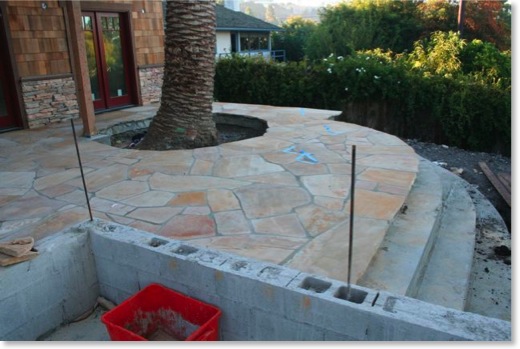 • The green slate has been installed on the balconies.
• Paint samples are all over the walls. I hear they will start within 2 weeks with the paint.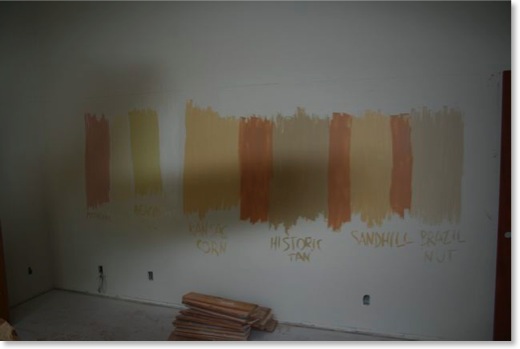 • Interior doors are installed and stained.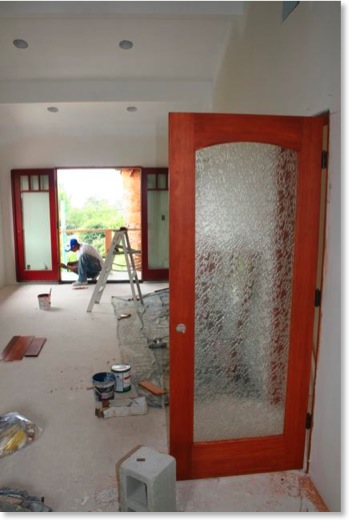 Next Page
Be sure to browse the 2,000 picture Photo Gallery for more step-by-step construction details.