In this blog I will do my best to describe the process I went through in turning my 1957 Ranch-style house into a 2006 Craftsman house as inspired by the
Gamble House
in Pasadena. Please feel free to comment on anything I write and ask questions as it is the only way we learn.


Note: Since completion of the house I have also decided to allow guest bloggers to post articles related to remodeling. This continues the education process.
TIMELINE
Architect Selection
- December 2002 through January 2003

Getting a Permit
- January 2003 through November 2004

Construction
- November 2004 through September 2006

Post Construction
- October 2006 through ???

---
---
Cabinets, Plumbing, Electrical, Insulation, Surround Sound, Roof Work, Shower Mopped,.....
Tue, Jun 14 2005 05:08 PM
| Bathroom, Bungalow, Cabinets, Construction, Craftsman, ebony, electrical, Insulation, mahogany, Plumbing, Remodel, thermador
| Permalink
I have been really busy and haven't had time for updates. I have finally organized the new pictures since my last posting on 4/16/05. I will load them up sometime this week, I promise. Here are the latest issues.
• All plumbing and electrical in the master bathroom has to shift to the left by about a foot since we had a designer lay out the cabinets.
• All insulation has been put in.
• I installed in-ceiling speaker brackets for surround sound in the living room.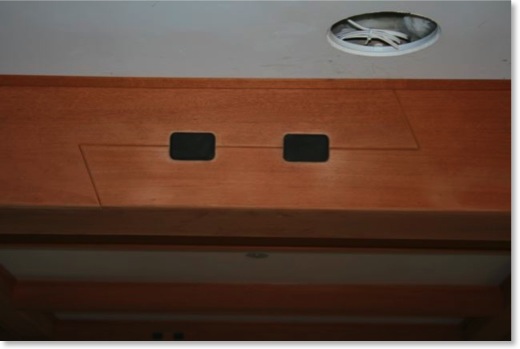 • Copper flashing is going on the roof.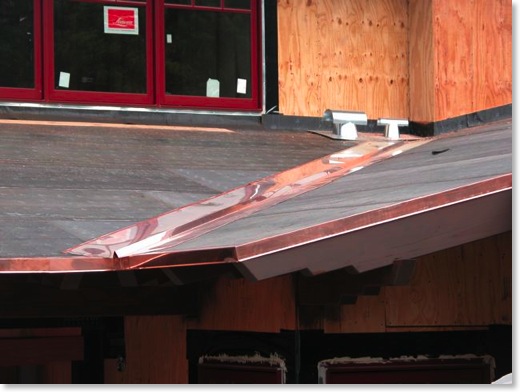 • The shower has been hot-mopped. We were told to pick out all bathroom tile and balcony and laundry room flooring this week.


• Skylights have been framed.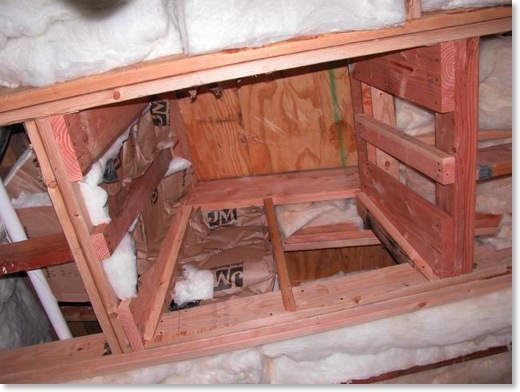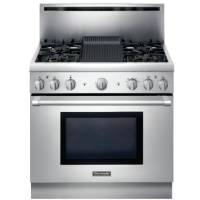 • The kitchen range vent has been put in place. One of the joists had to be moved over and plumbing rerouted to make room.
• The
Thermador range
and
Thermador dishwasher
were delivered last week. I found a place in Alabama (Fredrickson's Tire and Appliance) with amazing prices through eBay. They were clearing out a supply of Thermador appliances from a warehouse that closed down. They bought everything up and were liquidating at wholesale prices.
• With the extended garage roof you now hit your head when walking around the corner. So, we dug down about 2 feet around the garage to lower the grade.
Low Voltage Wiring, Electrical, Plumbing, Garage Door Ordered, Issues in the Kitchen
• Still working on updating the pictures. They should be coming within the week.
• There is still quite a bit to do before inspection. We had a telecom installer come out and install phone (Cat 5), cable TV (RG6), and Ethernet (Cat 6). There was about 1700 feet of ethernet wiring installed. It's easier to put it in now than later. For example, it's behind TVs, in the kitchen, etc. I won't be using it but in 10 years or so it may be needed for home automation purposes. It's also a good selling point if I ever go down that path.
• Wall sconces have been wired.
• Plumbing is almost complete. Just finishing up the gas lines.
• The garage door has been ordered from
Designer Doors
. This is going to be really nice!
• Issues continue to test my patience in the kitchen. There are so many wires, pipes, and ducts running through the ceiling that we are having trouble figuring out how to get a 10" duct from the range hood over about 10" off center to fit between two joists and vent out the wall.
• The ceiling beam patterns are a challenge since we decided to add the kitchen into the remodeling mix. We decided to stop the ceiling beams at the boundary between the kitchen and dining room so the living and dining rooms only have beams. Kitchen ceiling is TBD.
• The remaining part of the block wall on the rear patio was cut down yesterday.
Next Page
Be sure to browse the 2,000 picture Photo Gallery for more step-by-step construction details.