In this blog I will do my best to describe the process I went through in turning my 1957 Ranch-style house into a 2006 Craftsman house as inspired by the
Gamble House
in Pasadena. Please feel free to comment on anything I write and ask questions as it is the only way we learn.


Note: Since completion of the house I have also decided to allow guest bloggers to post articles related to remodeling. This continues the education process.
TIMELINE
Architect Selection
- December 2002 through January 2003

Getting a Permit
- January 2003 through November 2004

Construction
- November 2004 through September 2006

Post Construction
- October 2006 through ???

---
---
Structural Engineer Needs to Redesign to Save Tree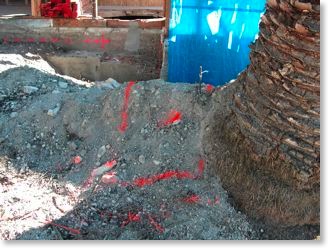 We ran into a little snag today. A footing (~8 ft. deep) can't be put in because it is adjacent to the date palm tree. The contractor called me over to the house and by 9AM he was on the phone with the structural engineer for a redesign. Since we can't put the footing in (kill the tree) or move the tree (block the view), we are going to put in a 22 ft steel beam (1200 pounds) to cantilever the upper deck.
Drawings Sent to Structural Engineer
The design Development drawings were sent to the structural engineer at Palos Verdes Engineering.

Soils Engineer Survey Performed
Tony Lee, a soils engineer, came out today to take core samples of the soil around 4 parts of the house.

Next Page
Be sure to browse the 2,000 picture Photo Gallery for more step-by-step construction details.