In this blog I will do my best to describe the process I went through in turning my 1957 Ranch-style house into a 2006 Craftsman house as inspired by the
Gamble House
in Pasadena. Please feel free to comment on anything I write and ask questions as it is the only way we learn.


Note: Since completion of the house I have also decided to allow guest bloggers to post articles related to remodeling. This continues the education process.
TIMELINE
Architect Selection
- December 2002 through January 2003

Getting a Permit
- January 2003 through November 2004

Construction
- November 2004 through September 2006

Post Construction
- October 2006 through ???

---
---
Landscaping is Blooming Well This Spring
Tue, Apr 1 2008 12:10 PM
| Avocado, Bungalow, Craftsman, Fruit tree, Garden, Grape, Landscaping, Peach, Plum, Post Construction, Remodel, wisteria
| Permalink
The landscaping is filling out very nicely right now. I planted a Concord grape last summer and there are at least 50 bunches of grapes starting to form on it. The Haas avocado, Babcock peach, and Santa Rosa plum trees are full of flowers and small fruit. And last but not least, my little artichoke plant that was cut to the ground about 4 months ago is growing with a vengeance and about 5 feet tall now.
Concord grapes are starting to appear.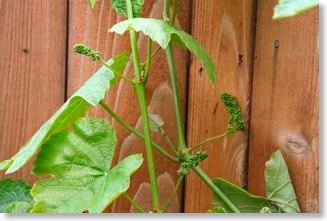 The artichoke plant is growing FAST!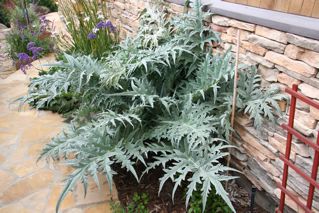 One of my plans was to have wisteria grow up the columns around the house and frame out the different entry ways. I may be a few years off from that but they are growing quite nicely and the purple flowers are strikingly beautiful. I'm going to have to get a small trellis built between the columns as the wisteria will be tall enough to grab on soon.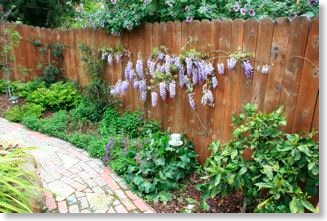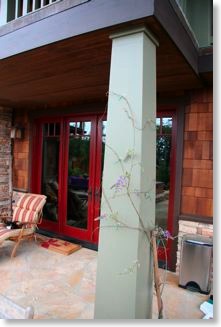 Next Page
Be sure to browse the 2,000 picture Photo Gallery for more step-by-step construction details.