In this blog I will do my best to describe the process I went through in turning my 1957 Ranch-style house into a 2006 Craftsman house as inspired by the
Gamble House
in Pasadena. Please feel free to comment on anything I write and ask questions as it is the only way we learn.


Note: Since completion of the house I have also decided to allow guest bloggers to post articles related to remodeling. This continues the education process.
TIMELINE
Architect Selection
- December 2002 through January 2003

Getting a Permit
- January 2003 through November 2004

Construction
- November 2004 through September 2006

Post Construction
- October 2006 through ???

---
---
Craftsman Curtain Rod Bracket Installation
As promised, here are some installation pictures of the curtain rods. A previous blog post shows the
manufacturing of the curtain rod brackets
.
Rich Wright
, the contractor of my house, made the curtain rods and brackets out of left over mahogany from the construction. He had to build a jig to hold the base bracket in place and ensure that it was aligned straight.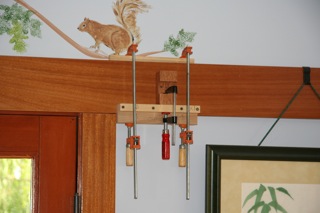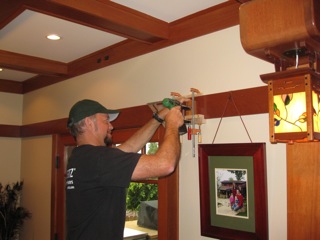 This picture shows the mounting really well. There are two screws that mount the base piece into the wall. The cover piece has a hole in the center where a 3-inch screw goes through the rod (not shown) and into the back support bracket. That hole is then filled with an ebony plug.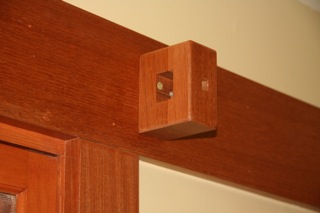 We ran into an issue with how to do a bracket for a corner window where each window had it's own curtain. Here is the solution, a corner bracket that takes each rod in at a 45 degree angle.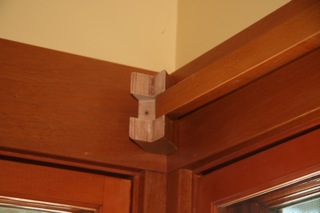 Test fitting a curtain rod into the brackets to make sure everything fits.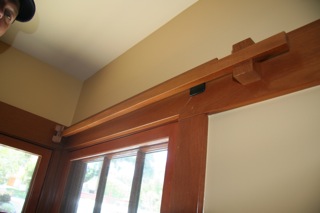 Now it's time to make the curtain rods. Each mahogany rod was custom cut to the length required for each window and door. I numbered the ends of the rods when finishing so I could remember where they went later. After some light sanding to bevel all edges, I sprayed on 3 coats of Varathane to seal them. This is the same finish I used on the curtain rod brackets.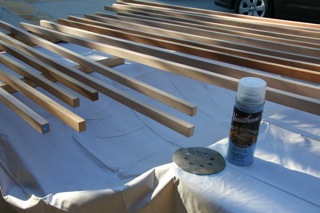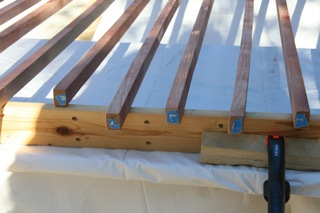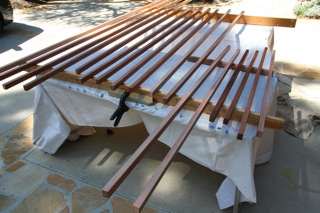 Meanwhile, this block of ebony was cut into tiny squares to plug the holes in the brackets after installation.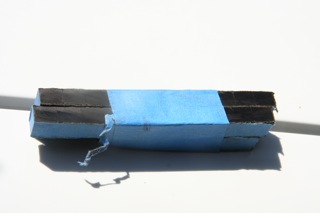 And now for the final product. Well, almost final. I still haven't put in the ebony plugs but you can't really tell in these pictures. The rods extend one inch past each end of the brackets. The curtains have tabs with buttons so the curtain can be removed if needed.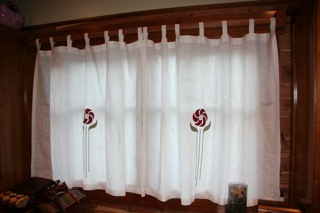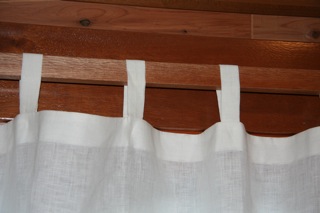 Next Page
Be sure to browse the 2,000 picture Photo Gallery for more step-by-step construction details.