In this blog I will do my best to describe the process I went through in turning my 1957 Ranch-style house into a 2006 Craftsman house as inspired by the
Gamble House
in Pasadena. Please feel free to comment on anything I write and ask questions as it is the only way we learn.


Note: Since completion of the house I have also decided to allow guest bloggers to post articles related to remodeling. This continues the education process.
TIMELINE
Architect Selection
- December 2002 through January 2003

Getting a Permit
- January 2003 through November 2004

Construction
- November 2004 through September 2006

Post Construction
- October 2006 through ???

---
---
Wall Sconce Stained Glass, Wood Floors Being Installed
Yes, I'm delinquent with the update again.There are a lot more pictures that I haven't had a chance to put on the site yet so keep checking back. A lot is going on around here.
• I'm really busy now creating the stained glass for some authentic Gamble House reproductions. The stained glass will be different and my own design. I'll tie that into the front door window whenever I get around to it. Go to
Old California Lantern Company
to see the best Arts & Crafts lanterns. I went in there and 3 1/2 hours later I outfitted my entire house.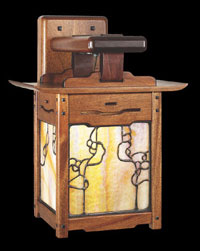 • The hardwood floors are being installed right now. It is long-length (8'-16'), quarter-sawn, 5"-wide, Brazilian Cherry. We are having a slight bevel put between the planks to give it an older look. The floor will be stained black, sanded, and then stained with a green dye to subdue the bright reds associated with Brazilian cherry.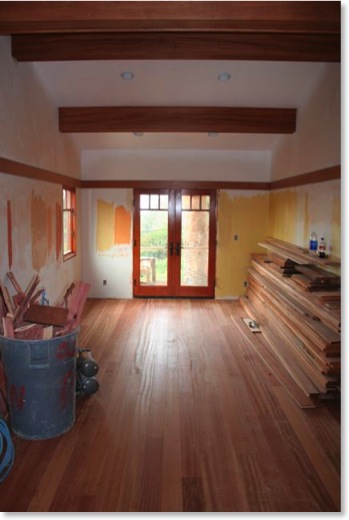 Soapstone Counter Installation
The soapstone countertops were installed in the kitchen and laundry rooms today. The templates were made on Tuesday and the countertop was installed on Thursday.
Soapstone West
has great service!
Below is a play-by-play of the installation.
These guys drove in from Arizona, and within 2 days measured, fabricated, and installed the soapstone countertops.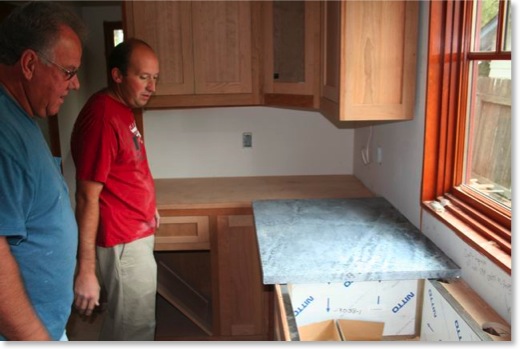 These slabs are HEAVY at 20 lbs/sq ft.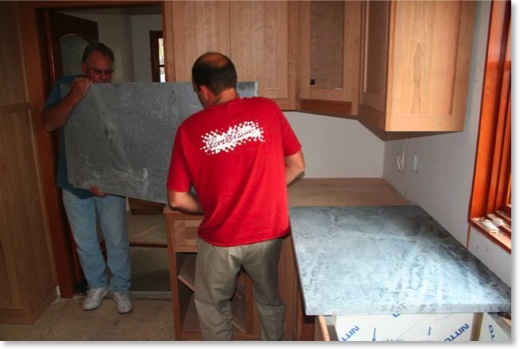 There is a 3/8" overlap of the sink. The holes for the faucet, soap, drinking water, and vent are drilled.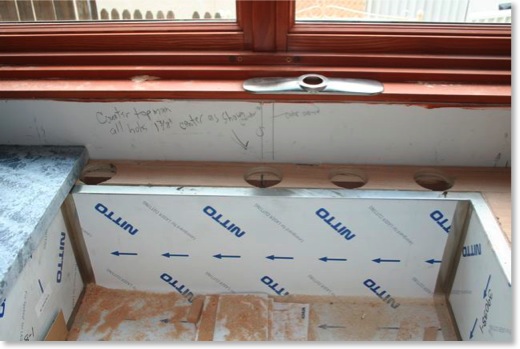 Black epoxy is mixed up to join the soapstone pieces and fill in any voids.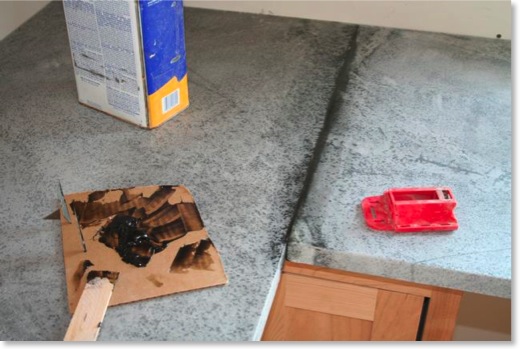 A ding is repaired with the special epoxy. After it dries you can't even see it.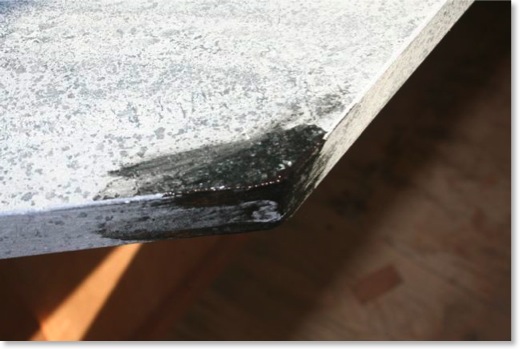 Even through the talcum powder layer you can see the caramel vein showing through.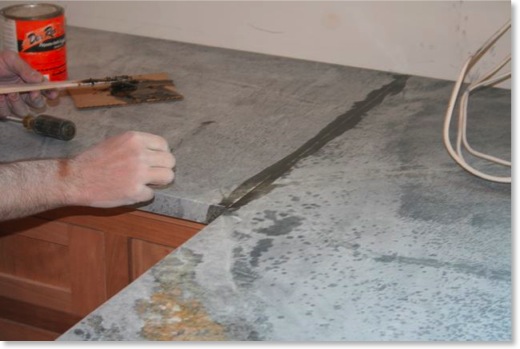 Soapstone installation is messy work.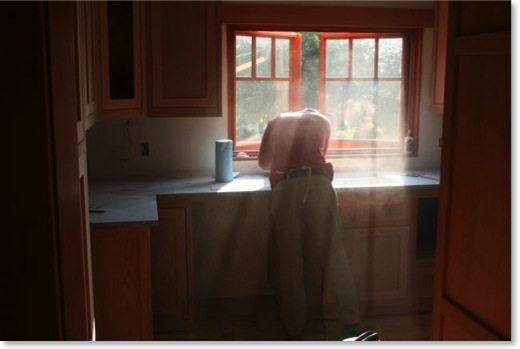 Soapstone is much denser than granite and can't be stained. However, it is soft enough so that hand sanding can be accomplished to smooth the edges.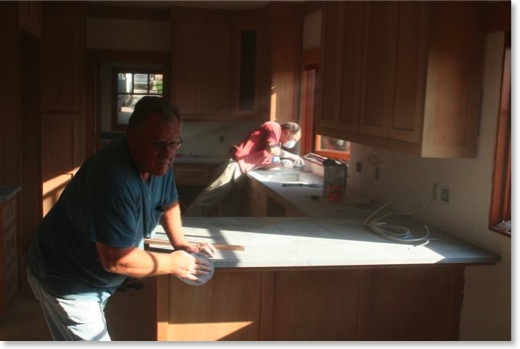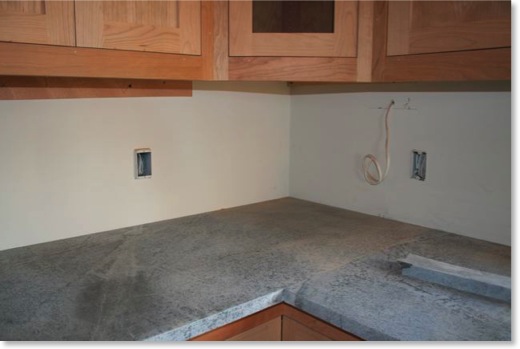 This looks gray now but wait until it's oiled.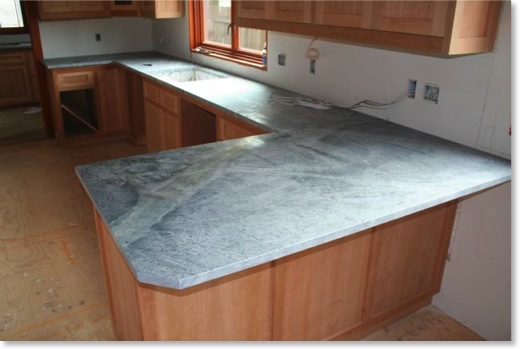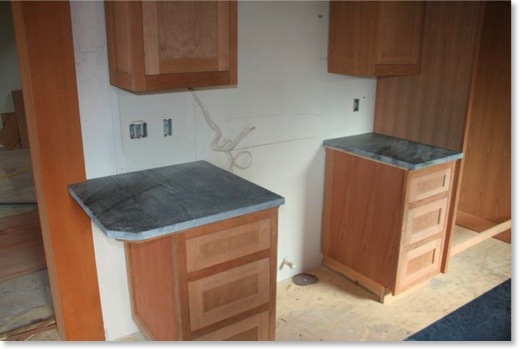 I oiled the soapstone with mineral oil. It's shiny because it's still wet. When dry, it will have a matte finish.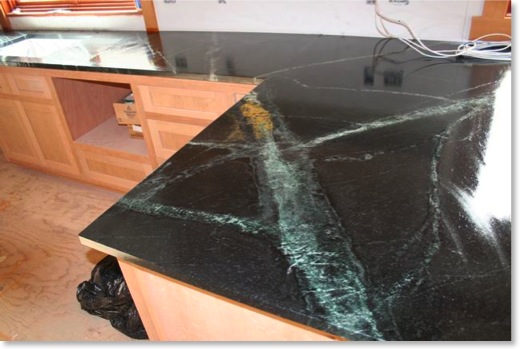 The counter looks great! The door to the laundry room has a "Delta" pattern in it.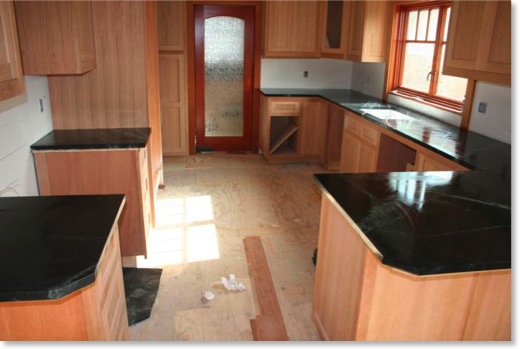 Next Page
Be sure to browse the 2,000 picture Photo Gallery for more step-by-step construction details.