In this blog I will do my best to describe the process I went through in turning my 1957 Ranch-style house into a 2006 Craftsman house as inspired by the
Gamble House
in Pasadena. Please feel free to comment on anything I write and ask questions as it is the only way we learn.


Note: Since completion of the house I have also decided to allow guest bloggers to post articles related to remodeling. This continues the education process.
TIMELINE
Architect Selection
- December 2002 through January 2003

Getting a Permit
- January 2003 through November 2004

Construction
- November 2004 through September 2006

Post Construction
- October 2006 through ???

---
---
A Magazine Called
A magazine I had emailed a few months ago just contacted me and said they would be interested in featuring the house. I'll let you know who it is when it's a done deal. Keep your fingers crossed. :)

Koi Pond Cleaning
Today I had the koi pond cleaned out. There was a bunch of muck on the rocks and it just seemed like the time since it has been 2 years since it was installed. They started draining the water before taking the fish out. Once there was only a few inches of water left, they started to catch the fish and move them to their temporary house; a large trash can. After Cesar caught all fish he could, he drained the pond completely and even sopped up the remaining water with a sponge. The troubling part to me was that 4 fish were in the rocks flopping around. I could here them but there was no way to get to them. I was told not to worry.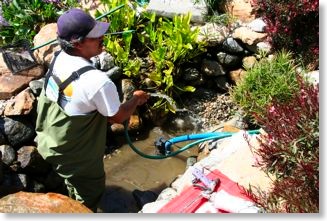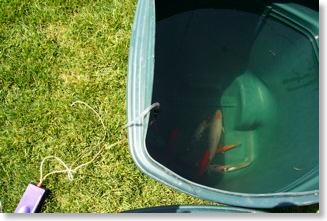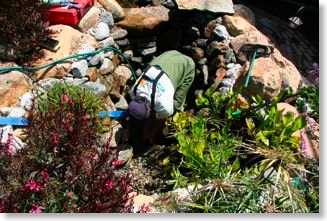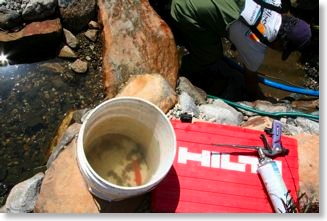 While Cesar scrubbed the rocks, Cor cleaned out the biotic filters. The picture below shows the lava rocks that sit in a bag at the top of the waterfall. There is bacteria living in those rocks so they get a superficial cleaning.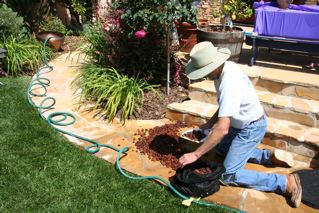 You are probably wondering what happened to the four fish. Well, after about 30 minutes of no water, the pond was refilled and the fish swam out of their holes. Amazing!

Landscaping is Blooming Well This Spring
Tue, Apr 1 2008 12:10 PM
| Avocado, Bungalow, Craftsman, Fruit tree, Garden, Grape, Landscaping, Peach, Plum, Post Construction, Remodel, wisteria
| Permalink
The landscaping is filling out very nicely right now. I planted a Concord grape last summer and there are at least 50 bunches of grapes starting to form on it. The Haas avocado, Babcock peach, and Santa Rosa plum trees are full of flowers and small fruit. And last but not least, my little artichoke plant that was cut to the ground about 4 months ago is growing with a vengeance and about 5 feet tall now.
Concord grapes are starting to appear.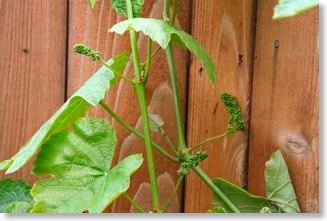 The artichoke plant is growing FAST!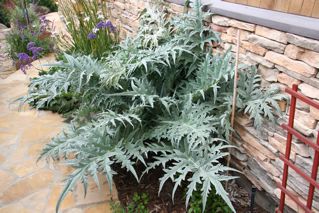 One of my plans was to have wisteria grow up the columns around the house and frame out the different entry ways. I may be a few years off from that but they are growing quite nicely and the purple flowers are strikingly beautiful. I'm going to have to get a small trellis built between the columns as the wisteria will be tall enough to grab on soon.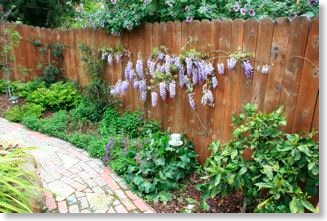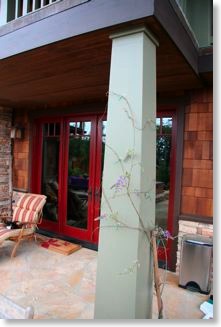 Next Page
Be sure to browse the 2,000 picture Photo Gallery for more step-by-step construction details.