In this blog I will do my best to describe the process I went through in turning my 1957 Ranch-style house into a 2006 Craftsman house as inspired by the
Gamble House
in Pasadena. Please feel free to comment on anything I write and ask questions as it is the only way we learn.


Note: Since completion of the house I have also decided to allow guest bloggers to post articles related to remodeling. This continues the education process.
TIMELINE
Architect Selection
- December 2002 through January 2003

Getting a Permit
- January 2003 through November 2004

Construction
- November 2004 through September 2006

Post Construction
- October 2006 through ???

---
---
Craftsman Curtain Rods and Curtains
After 2 years of living here, we are getting ready to put up curtains and rods. The problem we have been having to this point is what will look good and compliment all of the wood. Well, we found something we like but the problem is that it costs anywhere from $200-$400 per curtain rod. The rods are made of oak with small ebony inserts as you can see in the picture.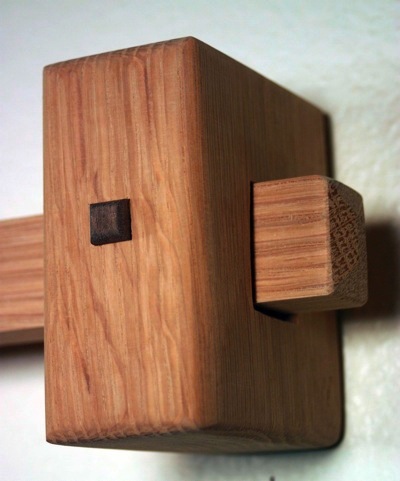 If you remember, I have a lot of mahogany and ebony left over from the job so we will be using that and make it ourselves. On a related note, my contractor Rich Wright asked me if I could create a web site for him in exchange for some work I may need done. What great timing! Rich will be building the curtain rods in exchange for his site.
Next Page
Be sure to browse the 2,000 picture Photo Gallery for more step-by-step construction details.